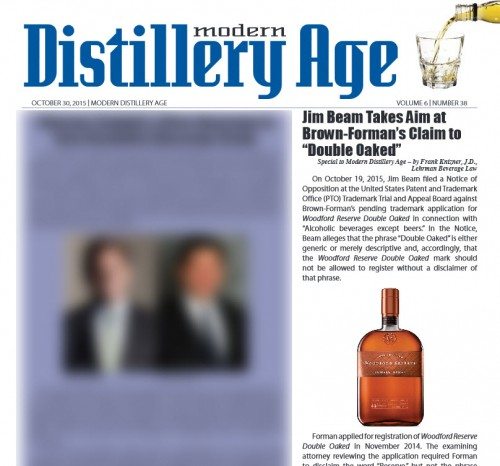 On October 19, 2015, Jim Beam filed a Notice of Opposition at the United State Patent and Trademark Office (PTO) Trademark Trial and Appeal Board against Brown-Forman's pending trademark application for WOODFORD RESERVE DOUBLE OAKED in connection with "Alcoholic beverages except beers." In the Notice, Beam alleges that the phrase "Double Oaked" is either generic or merely descriptive and, accordingly, that the WOODFORD RESERVE DOUBLE OAKED mark should not be allowed to register without a disclaimer of that phrase.
Notice:  a longer version of this article first appeared in Modern Distillery Age.
Forman applied for registration of WOODFORD RESERVE DOUBLE OAKED back in November 2014. The examining attorney reviewing the application required Forman to disclaim the word "Reserve," but not the phrase "Double Oaked." Forman complied, and in late April, the PTO published the application for opposition by third parties. Enter Beam, filing an opposition, arguing that "[Beam] and third parties will be damaged by the registration of [the] [m]ark without a disclaimer of "Double Oaked."
Specifically, Beam alleges that "Double Oaked" is a generic term "for the process of aging alcoholic beverages in a second oak barrel." The phrase, Beam continues, is "incapable of distinguishing [Forman]'s alcoholic beverages from those produced and sold by others because its primary significance is to name a type of product rather than indicate the product's source or origin." Alternatively, Beam alleges that "Double Oaked" is merely descriptive, because it "describe[s] [Forman]'s process of aging its product … in a second oak barrel."
The PTO typically refuses registration for marks that contain a generic or merely descriptive phrase, unless an applicant agrees to disclaim any right to the phrase. As defined by the PTO, "A mark is considered merely descriptive if it describes an ingredient, quality, characteristic, function, feature, purpose, or use of the specified goods or services" (e.g., "creamy" to describe a spirit). Generic terms are terms that consumers primarily understand as the common name for a class or type of good or service (e.g., "whiskey" to classify a spirit).
In this case, Beam argues that "Double Oaked" is generic because it refers to a type of aging process (i.e., aging alcoholic beverages in a second oak barrel), which it claims is common in the industry. Beam says that registration of Forman's mark without a disclaimer of the "Double Oaked" phrase would harm producers, presumably because they have an interest in using the phrase to designate the process used to produce their products.
Beam also argues that "Double Oaked" is merely descriptive, because it refers to the characteristics and aging process of Forman's bourbon. As evidence, Beam points to the dictionary definitions of "double" and "oaked" (both adjectives), as well as Forman's own allegedly descriptive use of the term on its labels.
Beam also points to the PTO's treatment of two similar trademarks as evidence that Forman should have to disclaim the phrase "Double Oaked." Beam notes that "SINGLE OAK" was allowed registration, but only on the supplemental register, along with other merely descriptive marks. Beam also notes that "DOUBLE OAKED" for wine was previously rejected by the PTO as being merely descriptive.
Forman's answer to Beam's opposition is due on November 28, 2015.