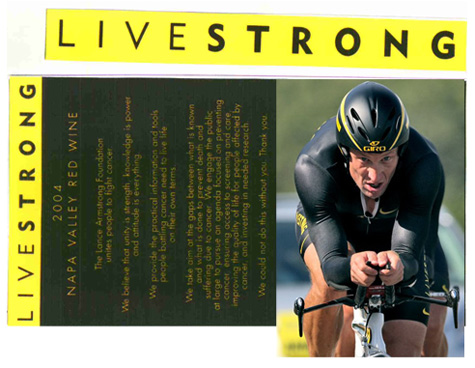 Lance himself brought this wine to our attention. It happened to be reader Lance M., but we thank him just the same; he noted as follows:
Lance Armstrong has made great strides with his charitable Lance Armstrong Foundation (Livestrong). Now, he has taken one more stride, with Livestrong wine. The bottle has the famous yellow band with Livestrong prominently displayed across it, and a note from Lance.
The note gives a good summary of the Foundation's goals and ideals, as on his website:  "We believe that unity is strength, knowledge is power, and attitude is everything." According to the label, the wine is a 2004 Napa Valley Red Wine produced and bottled by TNVR.
TNVR (or The Napa Valley Reserve) is a community of members who have access to an 80 acre ranch in the Napa Valley. The Napa Valley Reserve is owned by Bill Harlan, and allows members to make their own private label wine. According to its beautiful website, the expert staff from Harlan Estate Winery monitors not only the vineyards, but also the winemaking process. It grants people the luxury of being involved in their private label production as much as they are interested, with the added benefit of experts to guide them. If the wine turns out anything like that from Harlan Estate, it will be top quality wine.
You wouldn't expect anything less from Lance Armstrong or Bill Harlan, would you?