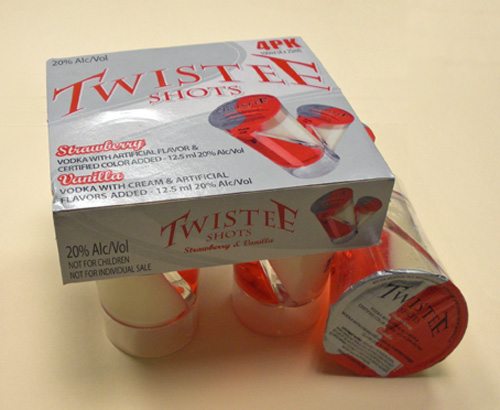 This may look like just another ready-to-drink spirit but there is quite a lot going on here.
It is two products on one label approval form. Box 19 (of the approval linked above) carefully notes "there are two pre-import letters associated with this product."
It is important to sell these in a four-pack because each cup is only 25 ml. TTB does not allow 25 ml. for spirits. When four are joined together, as here, it conforms to the 100 ml. "standard of fill." These standard of fill rules have been important to TTB for many decades. TTB calls this aggregate packaging.
To reinforce the aggregation, it is helpful to say NOT FOR INDIVIDUAL SALE.
Because they are tiny, it is helpful to state NOT FOR CHILDREN. This can help avoid the shame of a Liquid Lunchables designation.
It is important to put some labeling on the outer pack and some on the inner pack.
The origin (New Zealand) is also a bit unusual for spirits. There are a great many products in the Twistee Shots line, imported by Smart Beverage of Louisville, Kentucky.