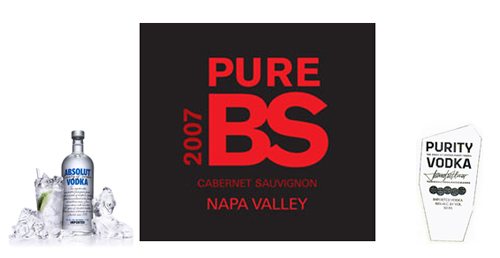 It's one of the most common and oldest words in the English language. Except nobody knows what it means, apparently.
Pure. TTB generally does not allow it on spirits labels, when it appears to describe the end product. So it's okay to say "made with pure water" but it's not okay to say "Pure Vodka." By contrast, there is no such restriction as to wine or beer. It is therefore perfectly okay to suggest that wine, such as the one above, is pure, or to be ambiguous about what is pure.
A teenager might call it random and a judge might call it arbitrary. It is not especially clear why Purity Vodka and Pure BS wine should be okay, but Pure Vodka should not be okay. Absolut has pressed to have these age-old restrictions removed (since way back in 2006), but they don't appear to be going anywhere fast.
The rationale has been that it's very difficult to define what is and isn't "pure," so it's best to put the term off limits. Thanks to Master Distiller Masters for bringing these labels to our attention.