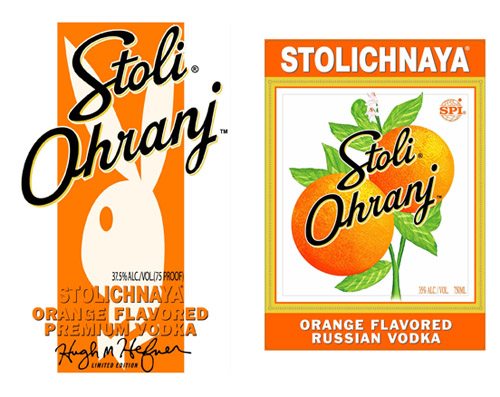 Stolichnaya Vodka is pretty famous. And if it's famous for anything, it's famous for being Russian. For decades it has been glammed up as The Russian Vodka.
Over the past one to two years, however, Stoli has pretty much walked away from its Russian origin. The label on the right, from 2009, proudly proclaims Stoli's Russian heritage and origin. By contrast, the label on the left, from 2010, sidesteps this issue. The more recent back label shows that the product is made in Latvia rather than Russia. Russia and Latvia are nextdoor neighbors, and were one and the same until Latvia regained its independence in 1991. Still, this is a big change and presents a tricky marketing challenge — that would seem to be tantamount to moving Jack Daniels production from Lynchburg to Los Angeles or Guadalajara. For such a big brand (with sales estimated near $2 billion per year) there has been surprisingly little press coverage of this issue. Back in 2006, Businessweek attempted to sort out this tale of international intrigue:
So what exactly is the row about this time? When the Russian government stripped S.P.I. of its right to the Stolichnaya brand in 2002, it also banned the company from exporting Stolichnaya vodka from Russia. That's when S.P.I. responded by moving the bottling of Stolichnaya to Latvijas Balzams distillery in Latvia. Yet the Stolichnaya on sale in the U.S. continues to be labeled as "genuine Russian vodka." S.P.I. and Allied Domecq testified in the U.S. court that the vodka continues to be produced in Russia, at distilleries in Kaliningrad and Tambov.
The 2010 approval also caught our eye because of the strange pairing of Baltic-Region flavored vodka with Hugh Hefner and his bunny.