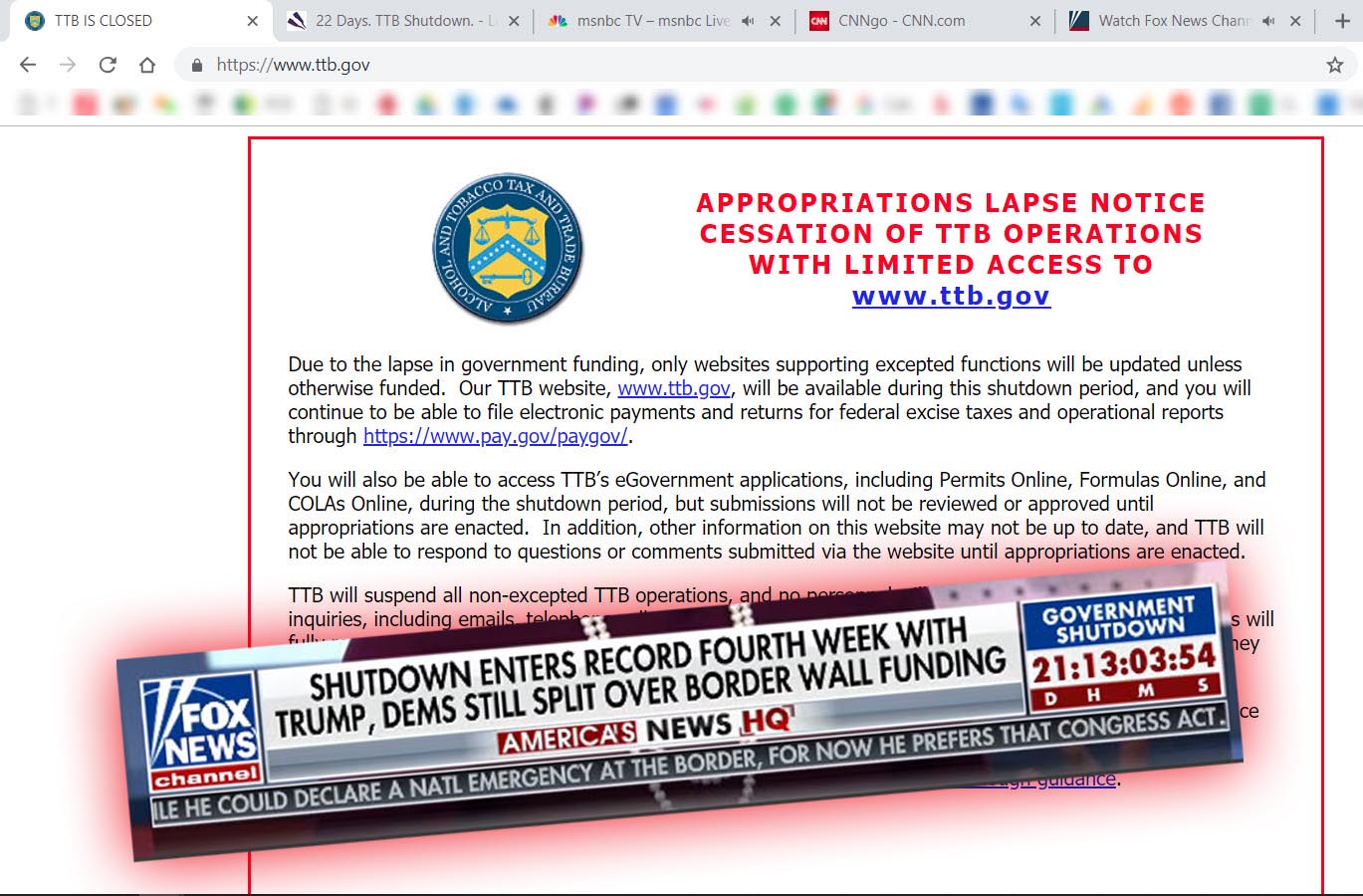 TTB has been shut for 22 days now. This is the longest in anyone's memory, or ever.
Few things are more heavily regulated than booze in America, so the impacts are correspondingly severe.
Labels

. Anyone with a login can submit labels as per normal. But nobody is going to review or approve them until TTB reopens. This is hundreds of beer, wine and spirits labels normally submitted per day. Just when TTB was bringing the normal processing time down to comfortable ranges, when anxiety and expedites were fading, we can expect long lines and much consternation.

Formulas

. About the same as labels above.

Permits

. More of the same.
Beer is getting a lot of the attention in the mainstream press. TTB beer label delays were on the front page of The Wall Street Journal this morning. And The New York Times a few days ago. And nobody should miss the Colbert segment on beer labels, TTB, and shutdown delays. Even though beer is getting a lot of the attention, the impacts extend to wine and spirits no less. For example, distilleries waiting on TTB for transfer in bond approvals (required for distilleries to ship bulk untaxpaid alcohol to one another) may not be able to produce some of their existing products, even if they already have TTB formula and label approval.
If there is any good news in all this, it is that TTB has already approved 174,489 alcohol beverage labels in the year preceding the shutdown, to get most of us through this dire time.
The full notice says:
Due to the lapse in government funding, only websites supporting excepted functions will be updated unless otherwise funded.  Our TTB website, www.ttb.gov, will be available during this shutdown period, and you will continue to be able to file electronic payments and returns for federal excise taxes and operational reports through https://www.pay.gov/paygov/.

You will also be able to access TTB's eGovernment applications, including Permits Online, Formulas Online, and COLAs Online, during the shutdown period, but submissions will not be reviewed or approved until appropriations are enacted.  In addition, other information on this website may not be up to date, and TTB will not be able to respond to questions or comments submitted via the website until appropriations are enacted.

TTB will suspend all non-excepted TTB operations, and no personnel will be available to respond to any inquiries, including emails, telephone calls, facsimiles, or other communications. The website and operations will fully resume when appropriations are reenacted.  TTB has directed employees NOT to report to work and they are prohibited by federal law from volunteering their services during a lapse in appropriations.

Once funding has been restored and the government shutdown is over, we will work to restore regular service as soon as possible.

For TTB employees, please visit OPM's website for additional shutdown and furlough guidance.
January 19, 2019 (2 pm ET) Update. In a federal court filing, related to the impact of the shutdown on COLAs, TTB yesterday filed a document explaining:
On December 22, 2018, the Department of the Treasury (including TTB) was partially shut down due to a lapse of appropriations. Scalese Decl. ¶ 4. As a result, approximately 90 percent of TTB's employees were placed on furlough, i.e., in a non-work, non-pay status, pursuant to TTB's shutdown plan (available at https://home.treasury.gov/lapse-in-appropriationscontingency-plans). Id. In accordance with the designated TTB shutdown plan, none of the functions in the Alcohol Labeling and Formulation Division, including reviewing applications for label approval, is considered "excepted." Id. Accordingly, all employees assigned to that division were placed on furlough and, in accordance with the Anti-Deficiency Act, must stay away from the work place and may not perform government work. Id. As of the date of filing of this brief, TTB remains unfunded and its employees thus may not review or process label applications at this time. Id. Once TTB receives funding, it will resume its review of applications for label approval. Id. ¶ 5.