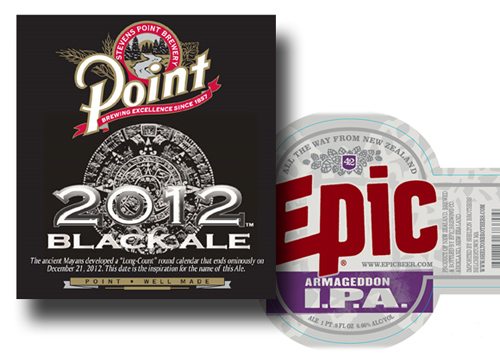 How many prognosticators, and beer companies, need to foretell the end of the world, before we see it coming?
The Mayans were early to call this thing, a couple of thousand years ago. But since then, Stevens Point Brewery has notably called it, with their 2012 Black Ale. The label explains that "The ancient Mayans developed a 'Long-Count' round calendar that ends ominously on December 21, 2012. This date is the inspiration for the name of this Ale." Box 19 of the form explains that the date is nothing major like "a vintage date, production date, cellar date or sell-by date." It's only the end of the world.
A handful of Tequila labels back up this prophecy. The Luna Nueva Tequila labels show a few cavorting cadavers, and refer to "2012 The Mayan Prophecy." Box 19 of the form explains that "The ancient Mayan believed that time runs in cycles and the last recorded cycle ends on [December 21, 2012]."
As if that weren't bad enough or soon enough, this Oregon brewer is getting ready with Apocalypse IPA, and this New Zealand brewer has Armageddon IPA. Lest anyone tremble, my favorite line from the Wikipedia page is where NASA says the 2012 predictions may be comparable to those surrounding the Y2K bug.