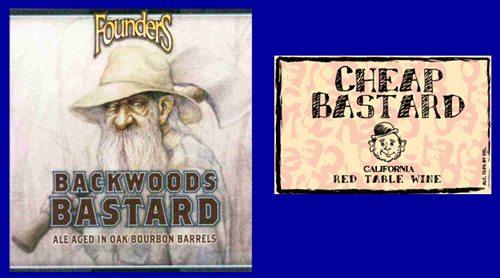 The industry submits a large number of "bastard" labels. From 2000-2009, TTB approved 124 labels featuring this word in the brand or fanciful name. This is about six times the number of such labels approved from 1980 to 2000. This is another example of how TTB has tended to ease up in certain areas, and will allow terms a bit more racy than many expect.
Cheap Bastard Red Wine is bottled by Pedrizzetti Winery of Morgan Hill, California. Backwoods Bastard is Ale Aged in Bourbon Barrels, bottled by Canal Street Brewing, of Grand Rapids, Michigan. We probably wouldn't bother to comment on the preponderance of "bastard" labels. But the numbers are growing, and some of them have more issues going for them, apart from the naughty word. Arrogant Bastard Ale has some better than usual writing on the back label:
This is an aggressive ale. You probably won't like it. It is quite doubtful that you have the taste or sophistication to be able to appreciate an ale of this quality and depth. We would suggest that you stick to safer and more familiar territory — maybe something with a multi-million dollar ad campaign aimed at convincing you it's made in a little brewery, or one that implies that their tasteless fizzy yellow beer will give you more sex appeal.
Off in the lower left corner, the back label also has a small Proposition 65 warning, not often seen on TTB-approved labels. It says:
Some materials used in the colored decorations on this container contain cadmium a chemical known to the State of California to cause birth defects or other reproductive harm.
The Arrogant Bastard, it turns out, is concerned about your well-being after all.