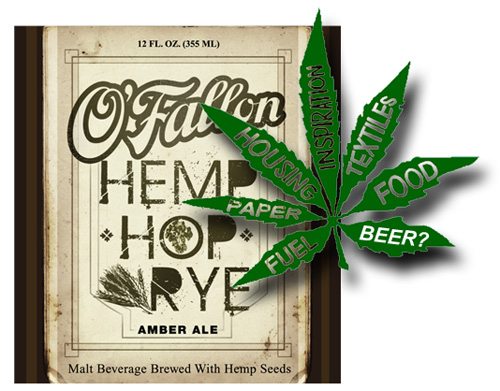 Until about 10 years ago, there were quite a few beers made with hemp available in the US. Then TTB/ATF put out a policy and also said:
On April 6, 2000, ATF issued a policy on the use of hemp or hemp components in alcohol beverages and on the use of the term "hemp" or depictions of the hemp plant on labels for alcohol beverages. The policy does not ban the use of hemp in alcohol beverages, but was created to assure that beverage alcohol products do not contain a controlled substance (tetrahydrocannabinol (THC)). ATF also determined that the appearance of the word "hemp" or depictions of hemp plants on labels was likely to create a misleading impression as to the true identity or quality of the product. As of this writing, there are no approved certificates of label approval for products containing hemp.
Slowly but surely, however, in recent months various beers with hemp are starting to re-emerge and three of them are highlighted in this post. For the uninitiated, hemp happens to be a member of the cannabaceae family, a cousin of hops and close kin of marijuana (or cannabis). Above is O'Fallon's Hemp Hop Rye, an amber ale brewed with hemp seeds and approved earlier this year. The label mentions the hemp, and has a little picture of the hops and rye — but the hemp or hemp seed imagery seemed to be missing (until we added it to the image above). According to a St. Louis Riverfront Times review the product "contains three kinds of malted barley, two types of rye, three varieties of hops and toasted hemp seed."
TTB applied several hemp-specific qualifications to this and the other hemp approvals. TTB said:
This label may not be used on a product that contains a controlled substance.
Hemp component(s) must be tested in the U.S. for the presence of controlled substance(s) each time component is imported and results must be maintained on your premises for inspection.
A detailed description of the method of analysis used by the U.S. lab to test for controlled substance must be maintained on your premise for inspection.
A second example is Humboldt Brown Ale Brewed with Hemp. It is brewed by Firestone Walker of Paso Robles, California. This approval also happens to add "This malt beverage may not have been produced with adjuncts (additives) except those that do not remain in the finished product."
Our third example is Rogue Epoch Days Ale Brewed with Hemp Seeds. It is brewed in Newport, Oregon and happens to include a highly detailed ingredient list of a sort that is fairly rare on alcohol beverage labels.