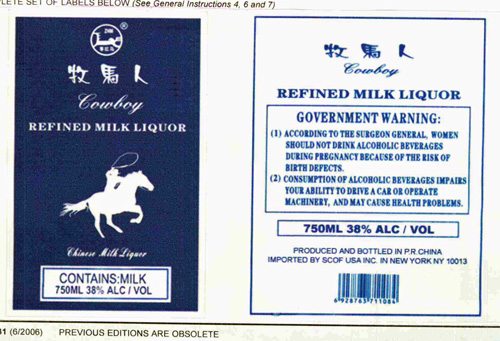 After seeing this vodka distilled from cow's milk, we didn't expect to see too many more beverages distilled from milk. Despite all, here is Chinese Milk Liquor. The label is fairly sketchy about how it's made. A very good website, teaching about Asian alcohol beverages, explains that this type of spirit is called Lai Jiu:
Literally "milk liquor," it is made by taking cow's milk, fermenting it, and distilling it. It is around 40% alcohol and it is as clear as water. I absolutely love the stuff. It has a sweet after-taste to it, like evaporated milk … . It gives one such a lovely high (much better than bai jiu). To my knowledge (and I've looked), it can ONLY be found in the province of China called Nei Meng Gu (Inner Mongolia).
The same website also covers Bok Bun Ja Ju ("man who pees in a pot") but we'll leave that topic for another day.