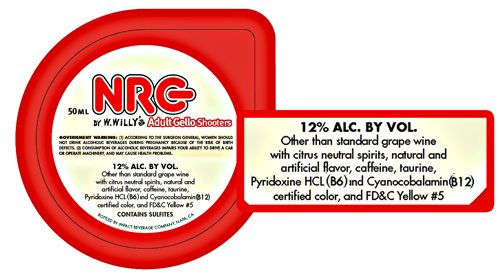 Controversy in a cup. This little shooter raises a lot of TTB issues. First of all, it's a gel-shot and those can be controversial from time to time. Next, it is technically a wine but it has added spirits — in the form of citrus neutral spirits (vodka, for all intents and purposes) and flavors. But wait, there's more. It contains caffeine. It contains taurine. And … it contains added vitamins, in the form of Vitamin B6 and B12 (pyridoxine and cyanocobalamin).
Not too surprisingly, this 2006 gem of an approval is also "surrendered" (see about halfway down the form).
As of this writing, TTB does not allow vitamins to be directly added to beer, wine or spirits. Until recent months, TTB allowed vitamins to be added so long as their was no direct reference to the vitamins on the label or in advertising. TTB is at the early stages of developing regulations related to alcohol beverages containing vitamins, minerals and caffeine.