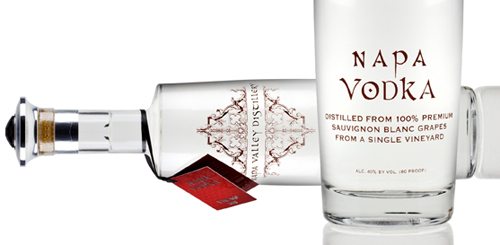 It doesn't go quite as far as Roth Vodka, which mentions something like a vintage date. But in some ways, Napa Vodka goes further — because it refers to the specific grape varietal and the vaunted Napa origin — rather than just California more generally.
Wines & Vines explains:
The vodka was made from 2008 grapes harvested from a single vineyard in Napa Valley and fermented into wine, then distilled in a Vendome copper pot still at Stillwater Spirits in Petaluma, Calif. … It takes nearly 2 tons of grapes to produce the 3,000 gallons of wine needed to make 300 gallons of high-proof spirits, which are then diluted to 500 gallons. … While there appears to be no legal requirement, [owner Arthur] Hartunian secured approval from the Napa Valley Vintners and Napa Valley Grapegrowers for his project.
It sells for about $75 per bottle, and the Napa, California distillery produced only about 2,600 bottles.