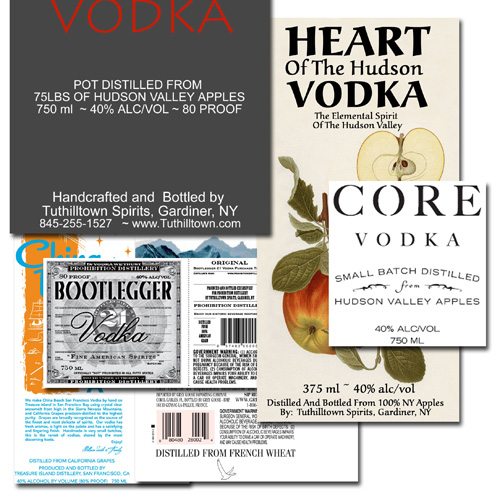 Do you see something wrong with the above labels? All of them have "fancy" commodity statements, rather than one that is more stripped down. A plain commodity statement would be something like DISTILLED FROM GRAIN rather than DISTILLED FROM FRENCH WHEAT, as on the Grey Goose label above.
On the one hand, there are many label approvals, such as the above. On the other hand, TTB recently rejected DISTILLED FROM NEW YORK GRAIN and said it must appear as DISTILLED FROM GRAIN instead. Can both the approvals and the rejection possibly be right? Between the two, what do you think is more right? This can be critical because most vodka and gin labels must have a compliant commodity statement, to show the commodity from which the base spirits are distilled.
The examples above are Heart of the Hudson Vodka (NY Apples), Tuthilltown Vodka (75 pounds of Hudson Valley Apples), Grey Goose Vodka (French Wheat), Core Vodka (Hudson Valley Apples), Bootlegger Vodka (American Grain), and China Beach Vodka (California Grapes). Other examples are Cold River Gin (Maine Potatoes), Soft Tail Vodka (Washington State Apples), True North Vodka (Michigan Rye), and Flathead Vodka (Idaho Sugar Beets).