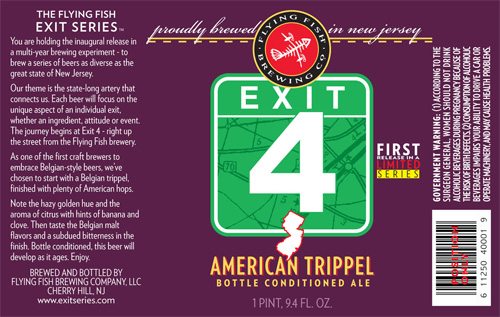 Maybe the world is not in such a sorry state after all, if there is room for outrage about a few beers named after exits on the New Jersey Turnpike. Various media report that MADD was alarmed about Flying Fish Brewing Company's new Exit 4 beer, named after the nearest highway exit. Google already has well over 8,000 hits for this puny controversy. MADD is apparently concerned about linking driving with drinking, or condoning the same. But even the most cursory review shows that the link here, and the impropriety, are tenuous to put it mildly.
Speaking of tenuous connections, it will be difficult for Flying Fish to find a connection between the unique aspects of 29 exits, and 29 distinctive beers. This is well evidenced by Exit 11, the second in the series; the connection is that both relate to … a confluence.
Plenty of other labels highlight a highway or exit. Side Pocket Foods has about 10 Exit 172 labels. This Weibel wine celebrates Route 66, and this Oak Ridge wine pays homage to Route 88. And here is Route 3 Chardonnay. There is no reason for MADD to be alarmed about any of them.